CBSS endorsed Wismar Declaration of the 9th VASAB Ministerial Conference at the VASAB Ministerial in Wismar
The Council of the Baltic Sea States (CBSS) actively participated in the VASAB Expert Conference and the 9th VASAB Ministerial Conference, held in Wismar, Germany on 1-2 June 2023.
The Visions and Strategies around the Baltic Sea (VASAB) conference provided a platform for fruitful discussions on recent advancements in spatial planning and regional development, with a primary focus on endorsing the VASAB Vision for the territorial development of the Baltic Sea Region in 2040. The event brought together heads of delegations from VASAB member states, including Germany, Estonia, Finland, Lithuania, Latvia, Poland, and Sweden, along with invited organisations such as the CBSS, EUSBSR, HELCOM, BSSSCnetwork, CPMR_BSC, and UBC Sustainable Cities Commissions.
During the VASAB Expert Conference held on 1 June, experts in the field convened to discuss the practical implementation of the VASAB Vision 2040. Participants explored the implications of the Vision for the Baltic Sea Region and identified key steps to transform it into a reality. The conference facilitated networking opportunities, project showcases, and reflections on future initiatives aimed at fostering a vibrant, resilient, and well-connected Baltic Sea Region.
The VASAB Expert Conference took place back-to-back with the adoption of the Vision 2040 at the VASAB Ministerial Conference on 2 June by the Ministers responsible for spatial planning and development in the VASAB countries of the Baltic Sea Region. The highlight of the VASAB Ministerial Conference was the adoption of the Wismar Declaration, which underlined the commitment of participating countries to the implementation of the VASAB Vision 2040.
The CBSS, represented by Dr. Ignė Stalmokaitė, Policy Officer for Sustainable and Prosperous Region, expressed gratitude to VASAB, its Secretariat, and the German Chairmanship for hosting the Ministerial Conference. The CBSS emphasised the significance of developing a more resilient Baltic Sea Region and enduring necessity for intergovernmental cooperation to address the challenges facing the region, and welcomed the renewed VASAB Vision 2040, highlighting the importance of continued close collaboration in the future.
Aligned with its long-term priorities of Regional Identity, Safe and Secure, and Sustainable and Prosperous Baltic Sea Region, the CBSS wholeheartedly endorsed the VASAB Vision 2040. The CBSS project, Baltic Sustainable Boating 2030, contributes significantly to the implementation of the Vision.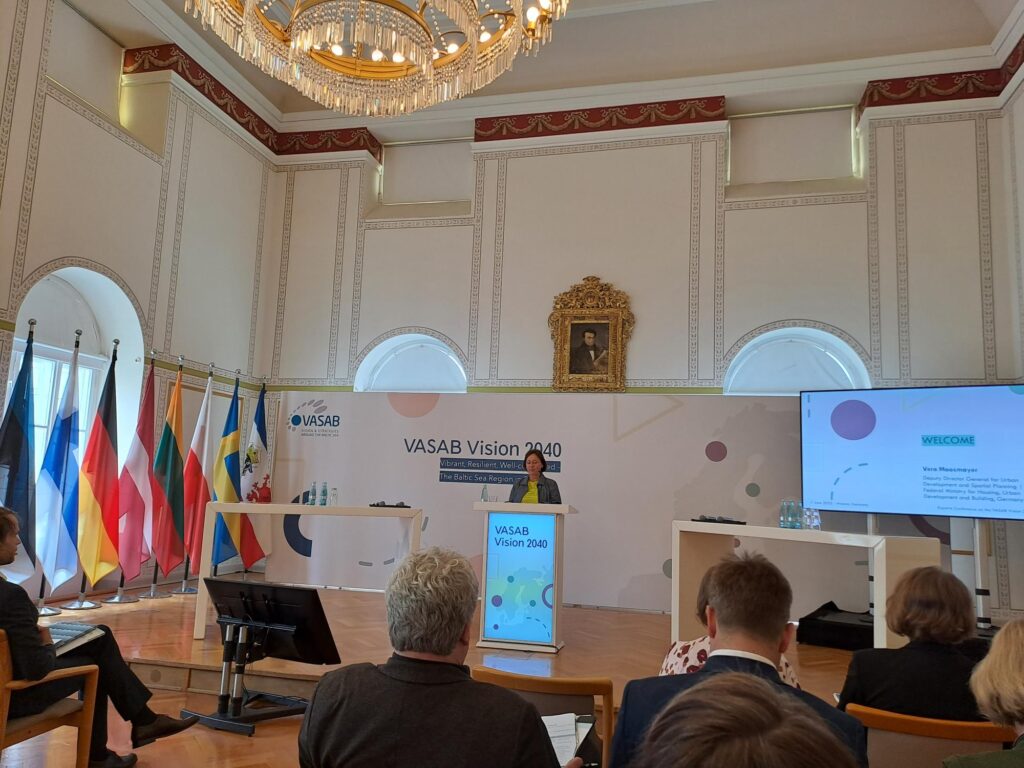 Photos: VASAB, CBSS