About BSYD
The Baltic Sea Youth Dialogue (BSYD) is an event for young people interested and engaged in Baltic Sea Region affairs, politics, developments, communities, people and more. It fosters cross-border communication and intercultural understanding among other historical, political and societal issues of common concern. The project aims to bring international cooperation and dialogue about intercultural, peer dialogue on regional and identity-building topics.
Therefore, every year, the CBSS gathers young, bright and inventive people from the Baltic Sea Region to discuss what the Baltic Sea Region means to them and which issues are relevant to the region. This results in some brilliant ideas, lots of food for thought and, inevitably, friendships.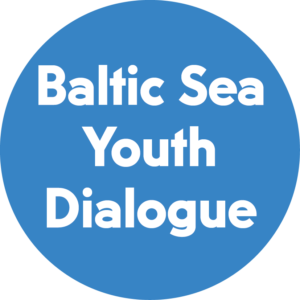 History
The Baltic Sea Youth Dialogue started in 2014 and was carried out for the first two years as a joint programme of the CBSS and Körber Foundation Germany. Together, they gathered young Europeans from their respective networks, who were interested in the history of the Baltic Sea Region. Organising programmes in border areas of the region, the young participants got to know each other's cultures in order to reflect, discuss and explore their shared identity.
Since then, the event has taken place in several of the CBSS member states, such as Estonia, Finland, Germany, Poland and Russia*.
BSYD previous editions
In 2022, the event will take place in Hamburg on 21-25 November. This year's theme of civil security coincides with recent debates about dumped munitions in the Baltic Sea as well as other relevant security issues in the region. The open call for registration and further information will be available soon on the CBSS website.
Latest outputs
"Imaginarium Balticum" – an illustrated journey by Lok Hang Abraham Chan, Daria Larionov, Silva Laure.
"Safe Travels in the Baltic Sea Region" a board game by Caroline Alder, Hildegard Lukas and Aleksandra Glazkova.
"Maritime clusters as a tool to reach sustainability and prosperity in the Baltic Sea region" – a study by Borys Sadowski, Karolina Sass, Vivian Tamm, Anna Ilina.
Learning Diary entry by Aida Bradauskaitė.
"Baltic Sea Region Youth Tour" by Emilia Curyło, Isabella Glušauskaitė, Kristina Golubenko, Christian Neubacher.
"The Baltic Sea Youth Expedition" by Ilja Belovolovs, Zuzanna Burzec & Justina Jemeljanovaitė.
"Simo, the Baltic Seal" – an informational Instagram account by Nadine Sippach, Luiza Rakhmatullina, Joy Laubenheimer.
Learning Diary entry by Josephine Alder.
Research and project ideas by Lilybell Evergreen, Khira Strauß, Dayana Atazhanova.
"Through the Baltic Eyes" – a project idea for a Baltic Sea "guest book" by Simona Jakaitė, Teresa Garcias, Andreas Schoop, Viktoria Xomiakova.
Funder and Partners
The Baltic Sea Youth Dialogue is funded by the German Federal Foreign office in collaboration with the German Embassy in Stockholm.
CBSS organises the dialogue each year and implements it individually or in cooperation with a varying partner organisation from the region.

Contacts
Franziska Seufert, CBSS Project Coordinator, [email protected]
Aline Mayr, CBSS Project Coordinator for Regional Identity, [email protected]

* Russia was suspended from the CBSS in March 2022 and withdrew from the Council on 17 May 2022.