Soft Security and Migration in the Baltic Sea Region
How state and municipal agencies in the Baltic Sea Region have adressed migrational pressure
Pub. Oct 18, 2017
Published October 18, 2017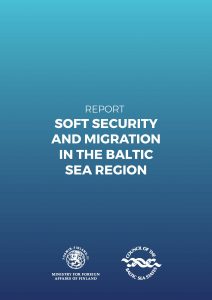 The report is a result of the Soft Security and Migration Conference held in Helsinki on 30 – 31 May 2017.
The purpose of the conference was to discuss and analyze how this situation has been addressed by state and municipal entities such as border guards, law enforcement agencies, immigration authorities, migration services and other service providers, as well as civil protection agencies and non-governmental organizations in order to identify approaches and measures taken that have been effective, that is promising practices, and lessons learned from mistakes made in order to build better resilience towards such pressures in the future, and positively contribute to improving existing policies.
To conduct this discussion and analysis, representatives of governmental agencies and services, local authorities and civil society organizations were brought together to share experiences & assessments and have a dialogue with the aim to formulate policy recommendations for key stakeholders for further actions and policy development to build resilience and security and reduce vulnerability with focus on prevention, engagement and integration.
The final report was written by Anders Lisborg, Bjarney Friðriksdóttir, Magdalena Lesińska and Morten Lisborg and addresses (1) the impact of migration on host societies & challenges of early integration; (2) migration management from a soft security perspective and (3) the safeguarding of the right os migrants.