200 experts gathered online to discuss child trafficking in digital environments
On 6 May 2021, a conference on Trafficking in the Digital Era was held online, gathering almost 200 participants from across the Baltic Sea Region and the EU. The conference was organised as a joint collaboration between the CBSS Expert Group on Children at Risk and the CBSS Task Force on Trafficking in Human Beings, under the auspices of the Lithuanian Presidency.
The purpose of the conference was to shed light on how technology facilitates trafficking in children, who the victims are, and what the impact is on children who are trafficked, and to learn more about identification, investigation, safe paths to recovery and justice for children.
Speakers included Agnė Bilotaitė, Lithuanian Minister of Interior; Ylva Johansson, European Commissioner for Home Affairs; Petya Nestorova, Executive Secretary of the Council of Europe Convention on Action against Trafficking in Human Beings, Cathal Delaney, Head of Team Analysis Project Twins at Europol and a series of experienced researchers and practitioners.
In an ongoing CBSS effort to involve young people in all aspect of decision-making and problem-solving in the Baltic Sea Region, a youth panel shared their perspectives throughout the conference as well.
Agnė Bilotaitė, Lithuanian Minister of Interior remarked that "in the context of the recent pandemic, the digital space has become one of the main means of communication for children. It connects children to the world they were previously accustomed to: friends, teachers, entertainment. Unfortunately, they are also exposed to various threats in the digital space. The conference "Trafficking in the digital Era" is a response of the Baltic Sea Region to the growing issue of online exploitation of children and traps of human trafficking."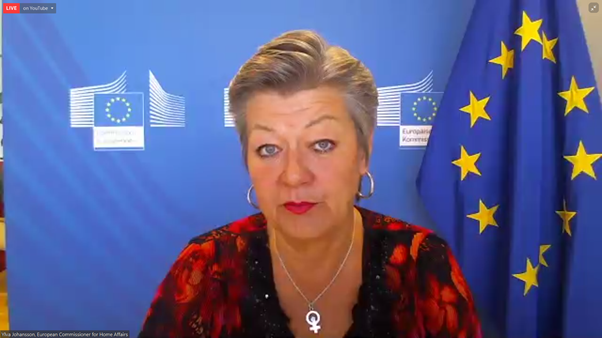 Ylva Johansson, European Commissioner for Home affairs stated that "trafficking of human beings is one of the worst kind of organized crime. Nearly a quarter of the victims are children, most of them girls. More cross border cooperation and exchange of information is needed."
Grzegorz Poznański, Director General of the CBSS, closed the conference by committing to that the CBSS – together with partners in the Baltic Sea Region and beyond – will continue our work to protect children against human trafficking, including trafficking facilitated by online technology. We will promote collaboration of relevant stakeholders in our region and beyond, to increase our understanding of this issue and to develop effective action.
Re-experience the conference through the Twitter chain below, or watch the event in full on Youtube: