Directors General for Civil Protection met online to exchange experiences
On 2 June, the Lithuanian chairmanship of the CBSS Civil Protection Network (CPN) hosted the 19th Meeting of the Directors General for Civil Protection in the Baltic Sea Region. This online gathering concluded the yearlong Lithuanian chairmanship, which was dedicated to preparedness and prevention, actions against nuclear risk as well as the lessons learned from the ongoing COVID-19 pandemic. Directors General and senior officials from 10 CBSS Member States participated in the meeting. 
Welcoming words were delivered by the Director of the Lithuanian Fire and Rescue Service, Mr. Saulius Greičius, who highlighted the continuous need for cooperation across the region.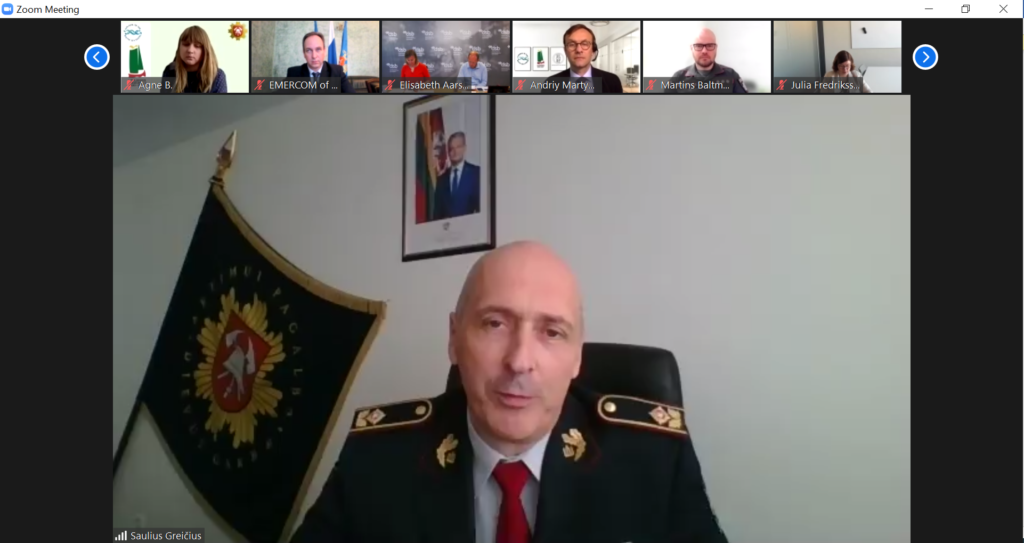 Ambassador Grzegorz Poznański, Director General of the CBSS, gave an opening address in which he also stressed the importance of cooperation in the Baltic Sea Region. Ambassador Poznański shared that one day prior (1 June 2021), the Foreign Ministers and high representatives of the CBSS Member States had met and adopted the Vilnius II declaration, which proclaims that the Baltic Sea Region "experiences significant progress in regional cooperation in civil protection, especially the prevention, preparedness and response against emergencies". This, stated Poznański, "means that you succeeded in laying the framework for a common societal security culture in the Baltic Sea Region".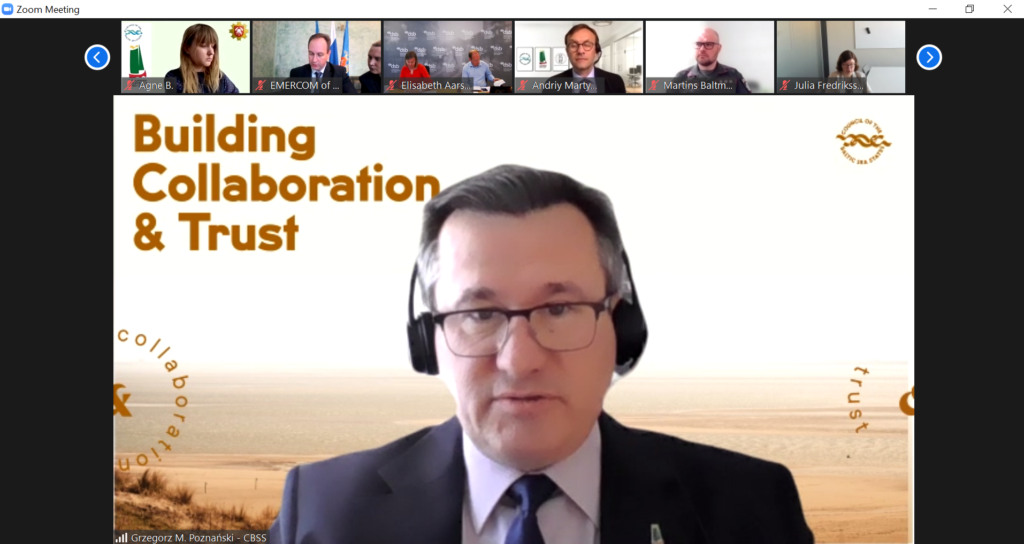 Following, all Member States gave short updates on recent civil protection developments and activities. Naturally, the ongoing COVID-19 response was a common thread for several Member States. However, other hazards and risks have still been taking place throughout the year, and many Member States noted that it required extra efforts to continue the conventional work in civil protection alongside the handling of the pandemic.
The Lithuanian Presidency reported on their activities throughout the year: the Baltic Excellence Programme 'Baltic Sea Region: Acting Together Against Nuclear Risk' and the CPN Senior Experts meeting on 'COVID-19 Outbreak: Challenges for Civil Protection and Lessons Learned'. Both the Presidency and the participants deemed the events informative, timely and successful, particularly in the light of the epidemiological situation.
By the end of the meeting, the Norwegian delegation provided the participants with a brief overview of the priorities for their upcoming chairmanship – disaster prevention and international cooperation. The Norwegian Directorate for Civil Protection (DSB) presented the topics to be explored within these priorities: natural hazards, industrial, technological and man-made disasters as well as emerging risks. The delegation also shared a list of planned events: the upcoming Baltic Excellence Programme will take place in Norway between 1-3 March and the 20th meeting of the Directors General – in the late spring of 2022. There are also two CBSS CPN Senior Experts meetings planned, as well as a 'teaser event' for the Baltic Excellence Programme.
The meeting concluded with the traditional bell handover ceremony. The chairmanship bell is on its way to Oslo, Norway.